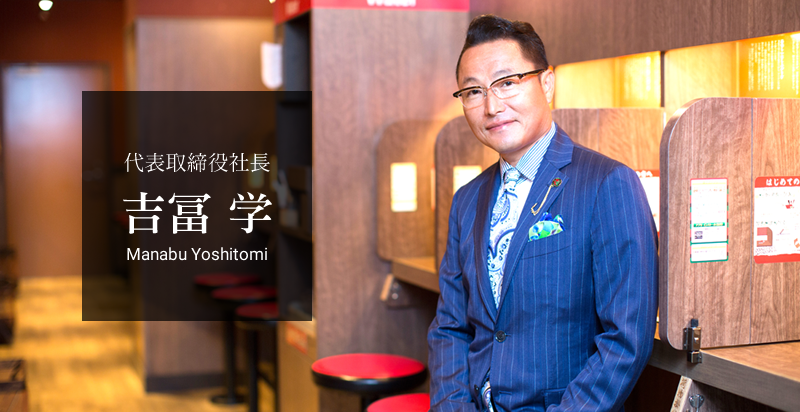 Dear readers,
I am Manabu Yoshitomi, company president of ICHIRAN.
お陰さまで、創業以来毎年出店を重ね、現在では福岡県糸島に製造拠点と店舗を併設した「一蘭の森」を含め、日本全国に 79 店舗、その他、千葉県に「一蘭の森 緑」、そして海外に 7 directly owned restaurants outside Japan.
Furthermore, under our aim to spread tonkotsu ramen worldwide as the preeminent company researching tonkotsu ramen, we recently branched out to New York with ICHIRAN USA Inc. I would like to extend my sincere gratitude and appreciation for the support of all of our customers, business partners, local supporters, and various stakeholders.
Going forward, please feel free to offer your guidance, direction, and opinions (no matter how critical).
I believe that my mission as a business operator is, first and foremost, to run a company that fosters happy, personable, and friendly staff, while continually delivering consistently delicious ramen and attentive service.
We will continue to dedicate effort to training our people so that they grow as enthusiastic and amicable employees who diligently and sincerely perform their jobs and provide happiness and value to the world. Over and above their work, enthusiastic and amicable employees act for the benefit of society and people in their daily lives as well. This is the virtuous cycle that we hope to expand and contribute to.
Additionally, we strive to foster and develop our many part-time employees so that they are trained and gain personal skills at the same level as our full-time employees, which will then be of benefit to our company and will transmit joy and happiness throughout society.
Going forward, we will dedicate effort to training our people, emphasizing compliance, and taking a broadminded approach to detailed research as we steadily and sincerely progress in each step of our operations.​ ​
I ask for your continued patronage and support.
President and CEO 吉冨 学