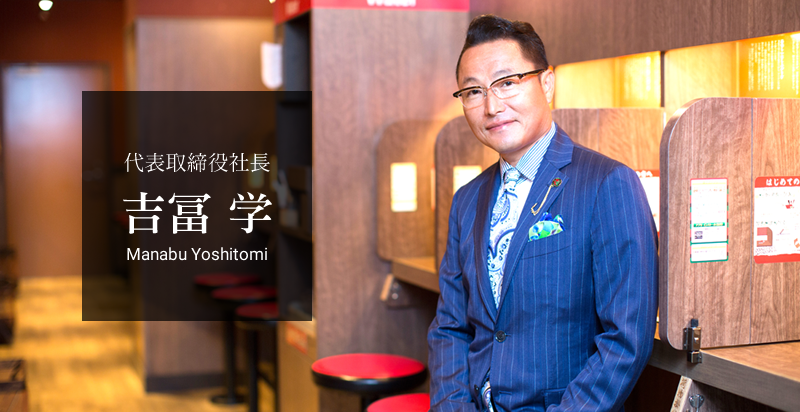 Dear readers,
I am Manabu Yoshitomi, company president of ICHIRAN.
Thanks to your generous patronage, we have been able to open new stores each year since our founding. Currently we have 80 restaurants across Japan, including ICHIRAN no Mori, our joint production facility and restaurant in Itoshima (Fukuoka prefecture), in addition to a production facility in Yokohama (Kanagawa prefecture), and 6 directly owned restaurants outside Japan.
Furthermore, under our aim to spread tonkotsu ramen worldwide as the preeminent company researching tonkotsu ramen, we recently branched out to New York with ICHIRAN USA Inc. I would like to extend my sincere gratitude and appreciation for the support of all of our customers, business partners, local supporters, and various stakeholders.
Going forward, please feel free to offer your guidance, direction, and opinions (no matter how critical).
I believe that my mission as a business operator is, first and foremost, to run a company that fosters happy, personable, and friendly staff, while continually delivering consistently delicious ramen and attentive service.
We will continue to dedicate effort to training our people so that they grow as enthusiastic and amicable employees who diligently and sincerely perform their jobs and provide happiness and value to the world. Over and above their work, enthusiastic and amicable employees act for the benefit of society and people in their daily lives as well. This is the virtuous cycle that we hope to expand and contribute to.
Additionally, we strive to foster and develop our many part-time employees so that they are trained and gain personal skills at the same level as our full-time employees, which will then be of benefit to our company and will transmit joy and happiness throughout society.
Going forward, we will dedicate effort to training our people, emphasizing compliance, and taking a broadminded approach to detailed research as we steadily and sincerely progress in each step of our operations.​ ​
I ask for your continued patronage and support.
President and CEO 吉冨 学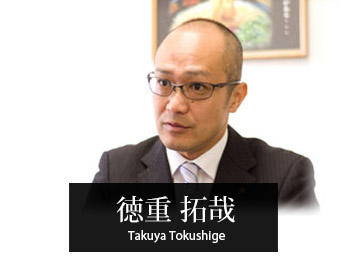 At Ichiran, everyone who is connected to our company wants to be involved in a business that lets them grow together with the company. For example, vendors who have dealings with us are not thought of as simple suppliers, rather we think of them as a partner who we can grow with together by sharing appropriate and valuable information.

For this, we build honest, healthy relationships with all of our vendors. That way we build stable relationships based on mutual trust, which really means that we can acquire safe and secure ingredients for our business.As a result, we have never had any incident of food poisoning or other related food hygiene issue since our company was founded.​ ​

Because we practice "righteous behavior" due to our "righteous thinking", we can achieve "righteous results". All of us at Ichiran will continue to maintain our high level of human qualities so that all of our customers can experience the delicious flavors Ichiran has to offer while feeling completely safe and secure.
At Ichiran, we believe first and foremost in spreading, communicating, and putting into practice our company philosophy. Our corporate culture starts by basing our recruitment, education, and growth of our staff on the goal of making them better people who are cheerful and smile while they work.

Our company believes that improving the happiness of our workers is important. We make sure that our staff are cheerful, pro-active, and have a sense of where they want to go with their lives combined with making sure they are satisfied with their job and are happy working with us.

従業員の強みを活かす全体最適な組織づくり、 笑顔あふれ「誉める・認める・感謝する」社風、 「欲」ではなく、「愛」を持った行動を実践し、社員満足度・顧客満足度の高い優良な企業を目指して参ります。