Our Ramen Focus Booths are highly valued by our diners because it provides a stress-free environment to enjoy their ramen. This comfortable privacy has also attracted many celebrities to our restaurants.​ ​
Ramen has always been meant to be savored in about 10 minutes in silence. Our Ramen Focus Booth allows you to concentrate on purely enjoying your ramen in a relaxed manner, free of unnecessary distractions.​ ​
The autonomic nervous system is responsible for both tension and relaxation, what we commonly call the "fight or flight" response. Sympathetic nerves in the autonomic nervous system respond to tense situations like playing a game, conducting a business meeting, going on a blind date, and other nerve-wracking situations. In this state (the "fight mode"), the body is incapable of properly experiencing the taste of food. However, parasympathetic nerves in the autonomic nervous system respond to feelings of safety, causing the body to relax and easily "absorb" information from your senses. Only in this state can we genuinely enjoy the taste of food.
Sitting in one of ICHIRAN's Ramen Focus Booths, your surroundings are blocked from view. Your body begins to relax from the tense mode controlled by the sympathetic nervous system caused by the bustle of the city or the stress from work. As the parasympathetic nervous system takes over in your relaxed state, you are able to fully experience the flavors of the food in front of you.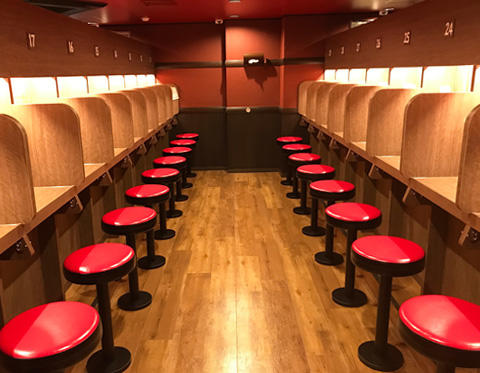 店内には味集中カウンターが
並んでいます

※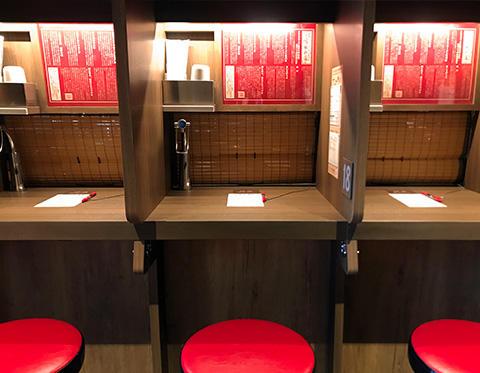 ご着席後、お好みの味を
オーダー用紙へご記入ください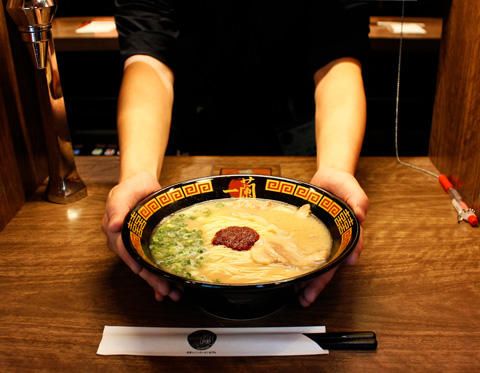 ご希望通りのラーメンを
ご提供いたします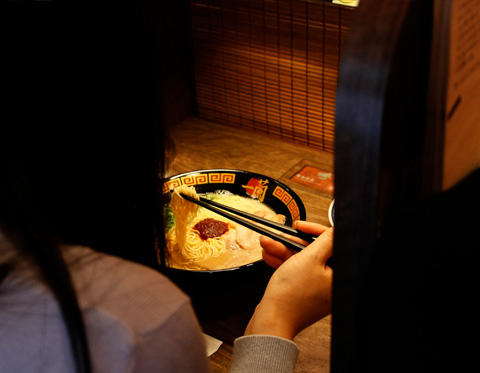 ごゆっくりお食事を
おたのしみください
※店舗により個室やテーブル席などもございます

Our unique Ramen Focus Booth concept was born from the experiences of our founder, Yoshitomi.
When Yoshitomi was in his first year of college, he had to earn his own tuition and living expenses because his father was battling cancer. He began working part-time at a restaurant for a top-notch chef with an unfortunate gambling problem. The restaurant was designed so that the kitchen was not visible from the customers' seats, allowing the owner to frequently leave the restaurant to gamble. Yoshitomi, who had been with the restaurant since its opening, was often left to run the restaurant alone. It was here that he was able to hone his cooking skills.
One day, a regular customer ordered a bowl of ramen and left saying "it was delicious." The same gentleman returned the next day and saw Yoshitomi running the restaurant alone. He ordered the ramen and after he was done, told Yoshitomi that his "cooking wasn't as good."​ ​
On the third day, when the same customer returned, Yoshitomi deliberately told him "the owner made this" when he served the ramen. "The owner's ramen is definitely the best," said the gentleman.​ ​
Yoshitomi made every bowl of ramen the customer ordered over those three days, but the customer thought each bowl had a different taste. This was when Yoshitomi realized that "people will perceive the flavors differently depending on who made it."
When Yoshitomi opened the first ICHIRAN in Nanokawa, he personally took to the streets to conduct a survey. The results showed that many women were reluctant to enter a ramen restaurant alone. At the time, Yoshitomi recalled being in junior high school and seeing girls cover their mouths as they ate lunch. He thought that many women may feel uncomfortable eating when others are watching them.
そうした経験から、吉冨は「作り手の雰囲気を一切排除し、お客様に一杯のラーメンのみと向き合い、周りを一切気にせず召し上がっていただける環境」を考案。那の川店では、目の前に客席と厨房をさえぎる暖簾を設置いたしました。それが味集中システムのはじまりでした。 その後、博多店がオープンする際に、初めて隣席を仕切る「仕切り板」が導入され、徐々に進化し現在の形となっていきました。