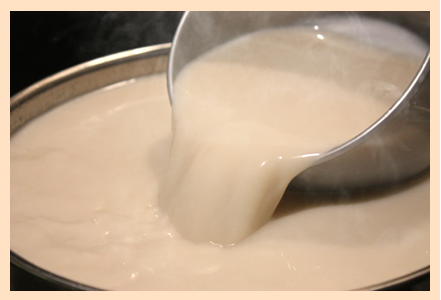 The temperature of each ingredient and utensil is carefully managed to maintain the temperature balance and ensure the taste of the ramen is at its most delicious. In order to keep the soup from cooling, the bowls are always warmed at a constant temperature.出汁、あぶら、スープにおいても各食材における適正温度を常に保ち、4時間に1回程度必ず測定します。
Also, only as much chashu (roasted pork fillets) as is needed is warmed in a special device, and it is never added to the ramen cold. Because very fresh onions bring down the temperature of the ramen, they are added last, just before serving. If additional onions, kikurage mushrooms or nori are ordered, we serve them on a separate dish so as not to affect the temperature of the ramen, and we carefully control the temperature until the last moment before serving to the customer.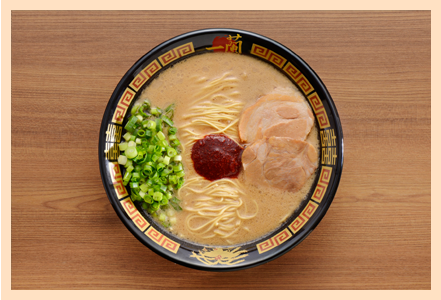 Because every bowl we serve is the best it can be, in terms of the ingredients, manufacturing, and cooking, we will not compromise on the "beauty of presentation". When the ramen is served beautifully, the cooks compliment each other and help each other to enhance their skills.

Because "quality" is the most important factor when buying ingredients, we believe that every second counts and manage the order in which deliveries arrive, so that items that need it can be refrigerated as soon as possible. And in order to prevent the food from getting damaged, ingredients are not taken out of the refrigerator until the last possible moment.

"Soup stock" is kept in a pot at a constant temperature, and we maintain perfect taste quality, considering even the trace amount of steam that condenses on the lid.

We care about things that might seem pointless. For example, if chashu is mistakenly added to an order that doesn't include it, even if only for a split second, that ramen will be different from the customer's requested taste, so we will not serve it to the customer. In the same way, we would not serve a bowl where there was a mixup between green onions and white onions.
At ICHIRAN, hygiene control is so thorough that you might think, "surely they don't have to go that far..."
Unfortunately, we can't make it public because it's a trade secret, but we maintain a level of cleanliness that would overturn the conventional image of a ramen shop.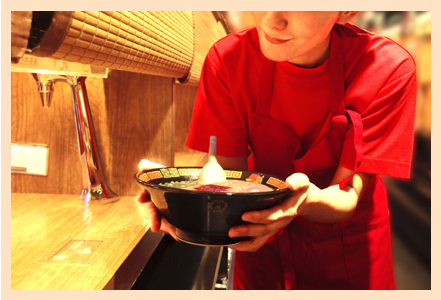 The kitchen of a ramen shop is generally thought to be greasy with oil, but ICHIRAN's kitchen is always kept thoroughly clean. The cleaning cycle varies depending on each cleaning location – from every hour, every 4 hours, every 12 hours, every day, every week, every two weeks, to every month, etc.

一蘭では、より衛生的な店内で美味しいラーメンをお召し上がりいただくため、空気環境にも細心の注意を払っております。All our restaurants, even those without basement windows, have a ventilation system that completely replaces the inside air six (6) times in an hour.

国内の一蘭全店舗にて「一蘭モデル」とした衛生管理に取り組んでいます。具体的には手指衛生の徹底やアルコール消毒液の設置、お客様および従業員が触れやすい場所(食券機、出入り口ドアなど)において1時間に1回以上のアルコール消毒などを行っております。
各店舗の従業員が4時間に1回程度、お客様と同じラーメンを食べ、誰がいつ食べたかをすべて記録として残しております。お客様から不調のご連絡をいただいた場合は、当日同じ時間帯に試食した従業員に体調の聞き取りを行い、原因究明に努めております。
また、麺、スープ、チャーシューなどすべての食材は菌検査を行い、安全を確認できたもののみ出荷しております。HACCPやISO22000に準じ、製造拠点から出荷する際には同じ食材をサンプルとして製造現場に保管し、万が一問題が発生した際には、保管食材を確認し原因究明できる体制を整えております。
これらの徹底した衛生管理を行うことにより、創業以来一度も食中毒をおこした事はございません。

Because moisture is a breeding ground for bacteria, there is hardly any on the floor of the kitchen. Even when draining the hot water from noodles, or when carrying washed dishes, we are careful not to let water get on the floor. If water does drop, we wipe it off quickly using a wiper installed in the kitchen, and it flows into a drain.

At ICHIRAN we believe that the important things when designing a store are selecting building materials that are less likely to lead to pest outbreaks and keeping the interior clean. In the unlikely event that a pest is found, not only do we exterminate that one culprit, but we also locate the nest and thoroughly eliminate all pests.

厨房で利用するダスターは決められた細かな頻度で洗浄・漂白を行っております。また、すべてのダスターは2週間毎に未使用のものと交換されます。無駄のない動きまでもマニュアル化し、誰でも隅々まで拭き取れるようにしております。

一蘭のトイレは最低でも1時間に1回はスタッフがチェックを行っています。便器だけでなく床や手洗場など汚れを発見した場合はこまめに清掃しております。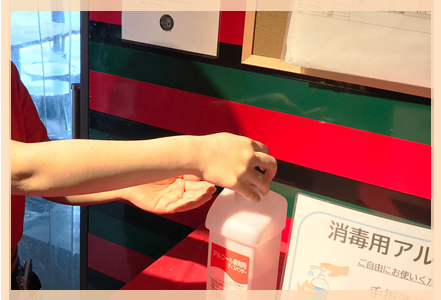 何かの作業後はもちろんその他、最低1時間に1回以上する事を義務付けております。さらに、従業員は勤務前に全員で爪の長さのチェックを行っております。勤務開始前だけでなく、休憩終了後なども厨房に入る前は必ず手を洗い、殺菌スプレーを手に吹きかけます。菌検査担当者が様々な消毒液を比較検討した上で最適なものを全店舗に導入しております。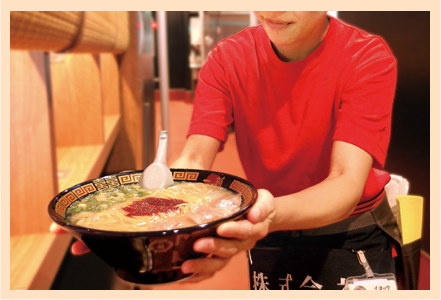 Every employee is provided with their own uniforms and they are obliged to wash them every day. Employees are prohibited from borrowing, lending or re-using their uniforms, and every employee works in a clean uniform every day.


2015年4月、一蘭は、ラーメンの材料に関わる製造・供給、ラーメンに関わる調味料の製造、供給においてPJRより認証を受け、ラーメン飲食業界初※のISO22000を取得いたしました。2021年、ISO22000:2018への更新が認定され、フードチェーン全体における 食の安全を守るための仕組みとして、食品安全システムが国際的に認められました。今後も安全・安心なラーメン作りに取り組んでまいります。
※PJR[リンク]調べによる(認証範囲:株式会社一蘭 お客様相談室、有限会社一蘭)

製造から販売までの一貫した品質管理・生産管理システムの確立は、安全・安心を絶対条件とする食品業界ではますます求められていきます。更に、国際的にHACCPが義務化されていく流れがある現在、海外展開を積極的に行っていく弊社がISO22000取得・更新したことは今後の国際的な展開に益々はずみをつけることになります。

弊社は創業以来、ラーメンの美味しさはもちろん、お客様の満足度の向上や安全・安心な商品のご提供に、誠心誠意取り組んでまいりました。そのような日々の地道な取り組みが実を結び、この度ラーメン飲食業界の先駆けとしてISO22000取得・更新に至りました。今後も国際規格に基づき、ラーメンの材料に関わる製造・供給、お客様満足度の向上を目指し、"とんこつラーメンを世界一研究する会社"として安全・安心なラーメンのご提供をしてまいります。