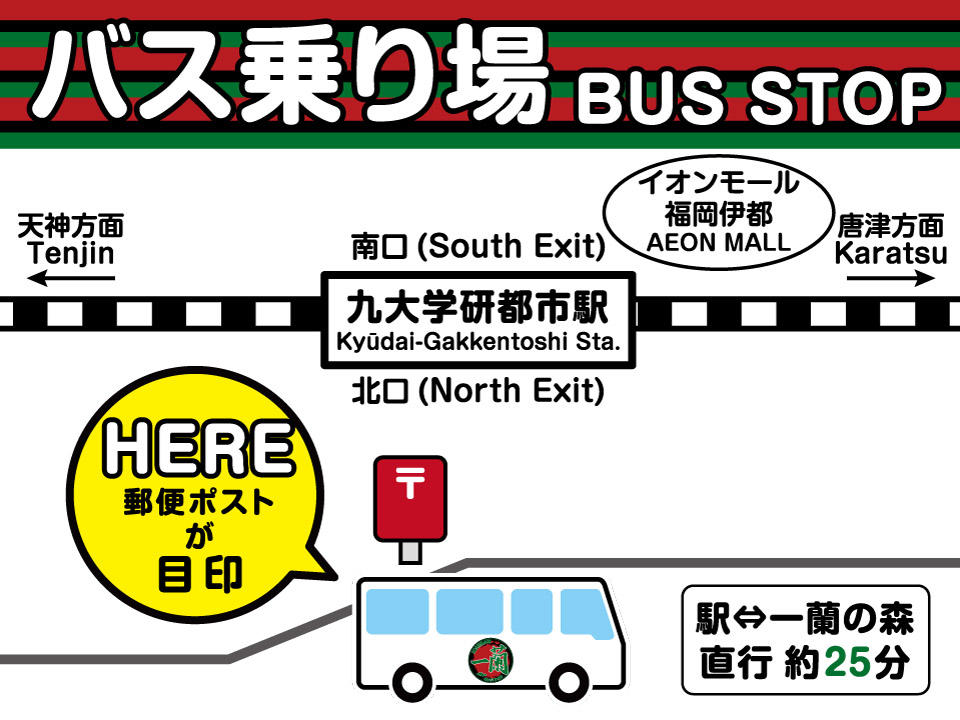 We will pick up a bus from Kyushu University Gakken city station ⇔ Ichiran forest for free so that more customers can enjoy "Ichiran no Mori". Please do not hesitate to make a reservation.
無料送迎バス運行一時停止のお知らせ
2020年4月6日(月)より当面の間、無料送迎バスの運行を一時停止させていただきます。
※再開時期は未定です。
お客様にはご不便をおかけいたしますが、何卒ご理解賜りますようお願い申し上げます。
Please Note:
(
Text includes machine translation.
)
Please be aware that large items such as suitcases are not permitted on the bus.​ ​
Small bags or other items are not permitted to be left on the bus. When the bus arrives at Ichiran no Mori, please take all your belongings with you when you visit the facility.​ ​
When your reservation process is completed, an automatic email will be sent to you. Please confirm the details of your reservation in the email. If you do not receive the email, please confirm the following, then begin the reservation process again.​ ​

Check your spam folder
Confirm your email address
Confirm if your email settings allows emails from the ichiran.com domain

If you would like to change or cancel your reservation, please send an email to reservation_mori@ichiran.com with 1) your name, 2) time of reservation, and 3) request for changing or cancelling the reservation.​ ​
Please strictly adhere to the departure time for the return bus (Kyudai-Gakkentoshi Station bound).